Improbable Solution
Whiterock, Oregon, is more than houses and stores and streets. A lot more...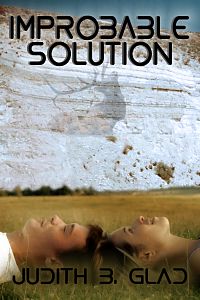 eBook ISBN 978-1-60174-190-5;
Trade paperback ISBN 978-1601749031
"This quirky book gained and held my interest to the end. Gus and Sally are real people, the small town atmosphere felt real, and the author has made all the secondary characters natural and authentic. There is wisdom, experience, sorrow and humour aplenty. I was rooting for Gus and Sally, willing them to make it work for them, but life isn't always happy endings. Their doubts kept me turning the pages right to the end. A great read."~~Kate Martyn, author of The King's Gift
Welcome to Whiterock, Oregon, a town that refuses to die.
Without a second thought, Gus pulled her into his arms.
Her face lifted, flower to his sun, ready for his kiss. Gently, he tasted her lips, wondering if she was as sweet as his memory told him. As he took her mouth, she sighed, the whisper of sound an aphrodisiac of the highest order. Her breasts against his chest were full and tempting, bringing him to immediate readiness.
He had to have her! Gus deepened the kiss.
Instead of pulling away, she pressed herself to him, cradling his male flesh against her soft belly. Her fingers dug into his shoulders, pulling him closer. He clasped her bottom in his big hands, lifting her. With his tongue, he explored her mouth, the slick ivory of her teeth, the thrusting arrow of her tongue, the hot, wet depths of inner cheeks. He felt her hands sliding beneath the collar of his shirt, tunneling through his hair. Her legs wrapped around his, bringing the feminine center of her hard against him, so close that, without their clothing, they would join in an instant.
As he lost himself in her, Gus was only peripherally aware of light sweeping across the yard. But she noticed, and immediately pulled away, unwrapping her glorious legs and leaving off her frantic search for entry under his shirt. He released her at once.
She took one step backwards and turned, leaning against the post beside her front gate.
"I can't believe this," she said, her voice a thready imitation of its usually husky contralto. As she spoke, headlights swept over them again and a car approached slowly, its tires rasping against the gravel.
Gus looked over his shoulder, recognized the roof silhouette of Lyle Curran's patrol car.
"You'd best go in," he said, not sure just how possessive Lyle might be of Sally. They'd seemed pretty close that day they'd been together in the café.
He was aware he was still an outsider, no matter that his help had been accepted with the May Fest.
Sally waved as Lyle cruised slowly past.
"I will," she said, "but not before I've said something."
He sensed, rather than saw, the nervous twisting of her hands. This time he recognized it as merely a symptom of her uncertainty, not as a sign of anxiety.
"I'm listening."
"I don't want you to do that—kiss me—again. I can't handle it. Not now, with everything else I have to deal with."
"I hadn't expected it to be like that. Not the first time," he said, "and not tonight, either." He sought the words to make her understand he was as confounded as she at what happened every time they touched. "Oh, I wanted to kiss you, I won't deny. But just a kiss. Not an explosion."
She shook her head, her hair swirling around her shoulders.
His fingers remembered the feel of it, his nose the scent of it.
"I'm scared," she whispered. "You...it...this...this hunger I feel. It frightens me." Lifting her head, she stared at him, although the darkness kept him from reading whatever message her eyes held. She sounded puzzled. "I'm not widely experienced, but I don't think most people ever feel anything like an electrical shock whenever they touch."
"Yeah. Me, too." He was probably as experienced as the average guy, and he'd never reacted to a woman as he did to her. As he was reacting now, at this very moment. Her voice tickled his ears, her faint scent tempted his nostrils, and her nearness made his arms long to hold her.
"Will you promise?"
"Promise?" He had all he could do to hold his desire in check. How could he follow what she was talking about?
"Not to kiss me again like that? Please?"
"I'll try," he said, thinking that the only way he would be able to leave her alone was to go away. "Goodnight." He went down one step, then another. "Goodnight." He took one last look back at her before he forced himself to turn and walk away.
---
eBook published by Uncial Press.
Available from Amazon, KOBO, and NOOK,
and from Untreed Reads and nearly every other ebookseller on the planet, in formats for all ereaders and reading apps.
Trade paperback available from Amazon, or order it from your favorite bookseller.